My Bowen Therapy Pain Relief Clinic offers 100 percent natural, fast-acting and cost-effective pain relief and injury recovery. There are no harmful drugs, invasive surgery, and no machinery.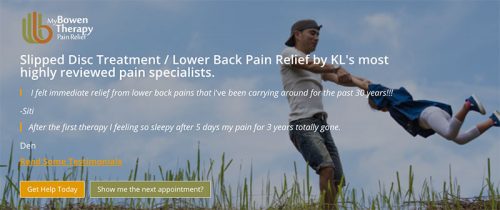 Kuala Lumpur Malaysia - April 16, 2018 —
My Bowen Therapy Pain Relief Clinic and Lorna Mair are pleased to announce that they offer one of the fastest growing treatments for pain management and sports injuries. The Bowen Technique is a natural, fast acting and cost-effective pain relief method suitable for injuries. The reliable slipped disc treatment uses no harmful drugs and no surgery. The techniques don't require the use of machinery. Because the therapy requires fewer sessions, the treatment regimen is less expensive than other methods.
The discs of the spine are also known as intervertebral discs. Although the discs don't actually slip, they may rupture, split or bulge. The disc cartilage and nearby tissue may fail or herniate. This allows the inner gel portion of the disc to leak or bulge into the surrounding tissue. This can lead to significant back pain and is a major reason why people may seek medical advice.
The Bowen Technique can relieve pain, restriction and bodily imbalances, using the healing mechanisms which the body has. The treatment for back pain is different than other therapies which are available. It is gentle and pain-free and provides results within three sessions for soft tissue-related issues. The method is safe enough that even pregnant woman can even enjoy the benefits. The techniques don't involve manipulation and are not a massage.
Bowen is a hands-on therapy working over precise tendons, ligaments, muscles, and nerves. It is known for the speed with which it works and the gentleness which is used. Traditional therapy addresses the alignment of the spine, while Bowen therapists view the tension in the muscles and soft tissue as being the underlying issue. The goal of the Bowen therapist is to find the problematic tissue and encourage it to return to its original healthy state. They use a gentle stimulus and time to observe if improvement is seen.
Contact Info:
Name: Lorna Mair
Organization: My Bowen Therapy Pain Relief Clinic
Address: Glomac Damansara, Jalan Damansara, Unit A-02-05, 60000 Kuala Lumpur, Federal Territory of Kuala Lumpur, Malaysia
Phone: +603 7731 0964; Mobile: +60 16-333 4581
For more information, please visit https://mybowentherapy.com/slipped-disc-lower-back-pain-relief-remedies-treatment/
Release ID: 331451